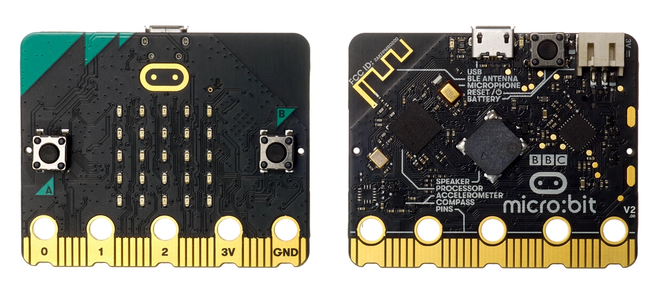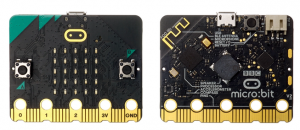 UPDATED: Micro:bit v2 has now been released and you can also find a comparison of the versions here, from our technology editor.
The new version of the small, portable, battery-powered board will look continues to support STEM work across schools, originally aimed at Year 7 kids (11/12 year-olds). It's been backed and shaped by work from organisations such as Lancaster University, Microsoft and NXP.
Features of v2 include an on board speaker, a MEMs Microphone with LED indicator, a touch sensitive logo, a built-in sleep/off mode that means the board can be powered-down with batteries connected and a discrete regulator that can supply up to 190mA of current to external accessories.
Note that all the existing MakeCode blocks and MicroPython code will still work in the same way as they do on the original micro:bit. Indeed, the previous micro:bit will also keep on working just as it did before.
What's changed? As well as a notched edge connector, to make it easier to connect things like crocodile clips, there's also a power LED indicator (in addition to the USB activity indicator) to clearly show whether the micro:bit is powered on or off, and a gold plated antennam, which makes it easy to identify the radio/Bluetooth component.
Hardware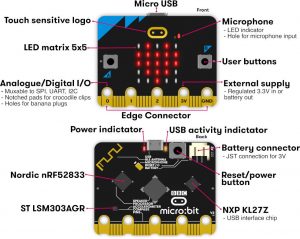 Specifically, in terms of hardware changes, the main MCU, to control the board and support comms, is the Nordic Semiconductor nRF52833 (64MHz Cortex-M4F, 512kB Flash, 128kB RAM). It was originally a NRF51822_QFN48, running on a 32-bit ARM Cortex-M0, which was the smallest ARM processor available.
What this means, significantly, is that the new version features Bluetooth 5.1, including 2MHz links, advertising extensions, long range and 5.1 direction-finding.
The secondary MCU, which serves as the USB controller, is the NXP KL27, 256kB Flash (128kB reserved for future enhancement) with 32kB RAM. It was originally the Freescale Kinetis KL26 MCU, the MKL26Z128VFM4,
The motion sensing is now provided by the ST LSM303 and the MEMS microphone is the Knowles SPU0410LR5H-QB-7 MEMS. And there's power consumption of 300mA (up to 190mA for accessories)
You can see a hardware block diagram below.
Collaboration
The people behind the Micro:bit, the Micro:bit Educational Foundation, write:
"The many voices that have come together to create the micro:bit experience are key to its success in attracting a diverse range of people to engage with and embrace technology.

It's in that same spirit of partnership and collaboration that we've worked to evolve the device and create the latest micro:bit, laying the foundations for years more digital exploration while maintaining the stability and reliability that have helped people around the world depend on the device as a core part of their teaching.

At the Micro:bit Educational Foundation we are working with Lancaster University, Microsoft, NXP, and MicroPython to ensure that the core micro:bit experience is as creative, compelling and consistent as it's ever been. But launching a new micro:bit wouldn't be complete without the input of the incredible community of editor authors, accessory providers, content authors and supporters of micro:bit."
Introducing the new @microbit_edu micro:bit V2! Now with a built-in speaker and microphone! #microbitV2 https://t.co/lNqWknrzIv pic.twitter.com/AMbwcZd8Nw

— Farnell Electronics (@Farnell_Avnet) October 13, 2020
Five million micro:bits already used for teaching digital skills and computational thinking, says the foundation.
You can read the announcement of the new micro:bit and more information about preparing for it.
See also: Interview: Making the BBC Micro:bit Bluetooth Smart