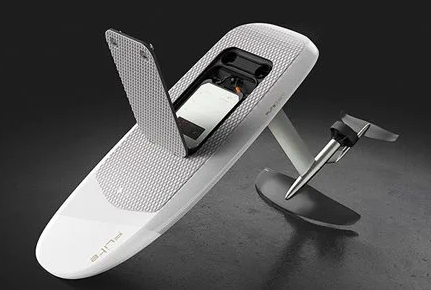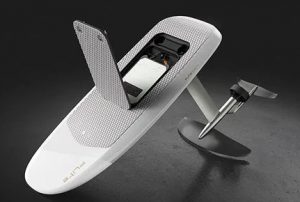 Basically, the Fliteboard is a remote-controlled "electric board" allowing watersport lovers to coast or 'surf' on any body of water with a depth of at least one meter. At up to speeds of 45km/h, apparently. (Watch out for the 6kW brushless electric motor, though if you fall in. There are serious safety implications.)
Both the board and a Flite Controller handheld device integrate a Rigado 'BMD-350' Bluetooth LE module based on Nordic's nRF52832 SoC.
It's made by Tekt Industries, a Melbourne-based technology company.
Nordic writes:
"The board's fully sealed subassembly, including the integrated Nordic SoC-based module, is embedded directly into the carbon fiber shell and provides GPS data recording, motion measurement, telemetry transport, and data transfer hardwired to the main eFoil module. As well as connecting the board to the handset, the Bluetooth LE link enables the board to communicate with the accompanying iOS-compatible 'Flite App' on the user's Bluetooth 4.0 (and later) smartphone."

"The proprietary IP67-rated Flite Controller handheld device employs a 500mAh Li-Poly battery providing approximately one week of regular use before recharge—an important rider safety feature—thanks in part to the ultra low power characteristics of the Nordic SoC. The nRF52832 has been engineered to minimize power consumption with features such as the 2.4GHz radio's 5.5mA peak RX/TX currents and a fully-automatic power management system that reduces power consumption by up to 80 percent compared with Nordic's nRF51 Series SoCs. The board itself employs a custom high-capacity battery management system that provides riding time for up to 30km before recharge."
A companion smartphone app can be used to download session data and give visual feedback of the session. This is using a map view and various icons including tilt and roll angles, speed, and battery status. The rider can also use the app to share the rides and upload the content to the Cloud."
"The nRF52832 SoC's Arm Cortex M4 processor with FPU provided powerful processing capability and radio sensitivity for the Fliteboard system, while using the same Nordic chipset with multipurpose, retaskable GPIOs [general-purpose input/outputs] in both the board and the handset enabled more agile development, thus accelerating our time to market," says Matthew Adams, CEO of Tekt Industries.

"Crucially, optimization of the power management for the Flite Controller unit's active, idle, and power-off states was achieved through the Nordic SoC's low power consumption."
They're not cheap. A Fliteboard costs €13,600.
You can read more information at the homepage for the device.