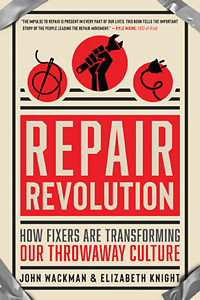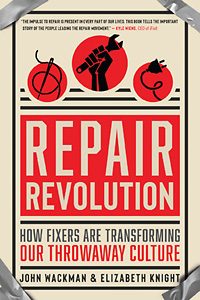 The subtitle of the book is How Fixers Are Transforming Our Throwaway Culture and it covers both the Right to Repair movement, which challenges manufacturers making products difficult to repair, and also practical tips and strategies for approaching repairs.
Basically, it's offering an alternative to a needlessly throwaway lifestyle. The publishers write:
"Repair Revolution chronicles the rise of Repair Cafes, Fixit Clinics, and other volunteer-run organisations devoted to helping consumers repair their beloved but broken items for free. Repair Revolution explores the philosophy and wisdom of repairing, as well as the Right to Repair movement. It provides inspiration and instructions for starting, staffing, and sustaining your own repair events. "Fixperts" share their favourite online repair resources, as well as tips and step-by-step instructions for how to make your own repairs. Ultimately, Repair Revolution is about more than fixing material objects: in an age of over-consumption and planned obsolescence, do-it-yourself repair is a way of caring for our lives, our communities, and our planet."
The book has been endorsed by the CEO of iFixit, Kyle Wiens, no less – "The impulse to repair is present in every part of our lives. This book tells the important story of the people leading the repair movement."
Check out the video below for a fuller outline.
You can buy it from www.newworldlibrary.com
Repair Revolution details
Title: Repair Revolution – How Fixers Are Transforming Our Throwaway Culture
Author: Elizabeth Knight Author: John Wackman
Publisher: New World Library
Price: $18.95
Pages: 320
Format: Paperback
ISBN: 978-1-60868-660-5
Date: November 2020
[Via The Restart Project]