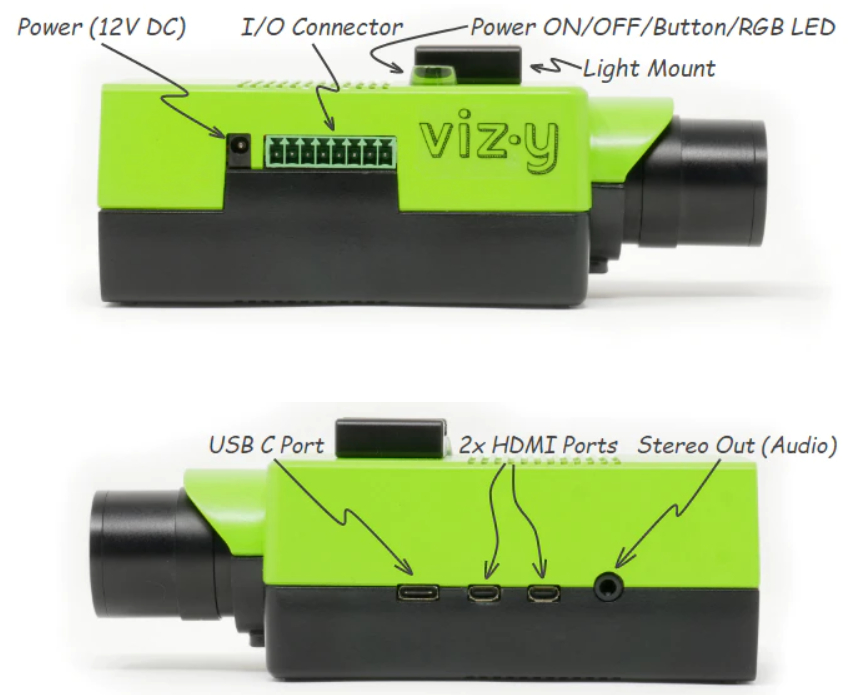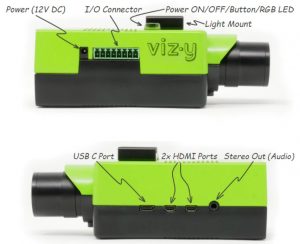 Based on a Raspberry Pi 4 board, the "AI Camera" is described by its makers as a Vision Platform.
The idea is that, rather than just capturing images, it enables you to detect things or measure things, take appropriate actions in response and record for later analysis, saving locally or to the Cloud…
(And I might not like the term, AI camera, but I think it's undeniable a lot of added processing and intelligence goes behind cameras these days – with SoCs with image signal processors and Neural Processing Units and the like, all busy better processing sensor information.)
Apparently, Vizy uses the same Sony image sensor (IMX477) as the Raspberry Pi High Quality Camera, which means it works with existing drivers and software. Extra video modes and software drivers have also been added, they say, which means Vizy's applications can grab video at 300 frames per second.
You can interact with Vizy via a standard web-browser running on your computer, tablet or phone.
Applications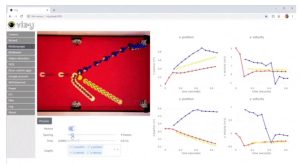 As an example of usage, it comes with a number of applications bundled onboard. There's a Birdfeeder application that watches your bird feeder and can identify 20 common bird species, apparently. It will capture pictures of the birds and upload them to the cloud (Google Photos) for you to view.
Motionscope is another application that uses Vizy to capture the motion of moving objects, accurately measuring the position, velocity and acceleration of each object in each frame. Example analysis is pictured above (from images taken above a snooker table).
The Vizy Telescope application can also help you explore the night sky, and capable of being used with motorised telescope mounts. The device can control such mounts directly while taking pictures and processing the images.
The creators write:
"You can think of Vizy as a powerful platform for AI, scientific and vision applications and a great way to become familiar with and learn AI and image processing. (But you don't need to know how to program to use Vizy.)"
Vizy's features, in the creator's own words, are:
Raspberry Pi 4 CPU, including quad-core ARM processor, up to 8 gigabytes of RAM, WiFi, gigabit Ethernet and 4 USB ports
High-resolution camera with high-quality optics that can capture over 300 frames/second and support both daytime and nighttime viewing
Easy-to-use digital and analog I/O with high-current output for controlling motors, solenoids, relays, lighting (and even sprinkler valves!)
Web-browser UI can be accessed from your computer, tablet or phone, locally or remotely.
Easy-to-use Python application software — run applications others have written, or customize/write your own
Optional accessories include zoom lens, outdoor enclosure, lighting, telescope adapter and 4G LTE cellular modem
Vizy comes with deep-learning neural networks that makes detection of objects, people and/or animals straightforward.
Processing is done onboard. It doesn't use servers for AI processing, so you don't need a network connection or pay a monthly server fee.
At the time of writing, Vizy has raised £87,299 from 337 backers, compnared to the goal of £11,633, with 14 days to go.
You would need to pledge $229 online dollars to get an Early Bird Vizy (2GB).
If you are interested you can read more info on the project's Kickstarter page.
What do you think? Leave a comment below. It seems a great use of a Raspberry Pi.