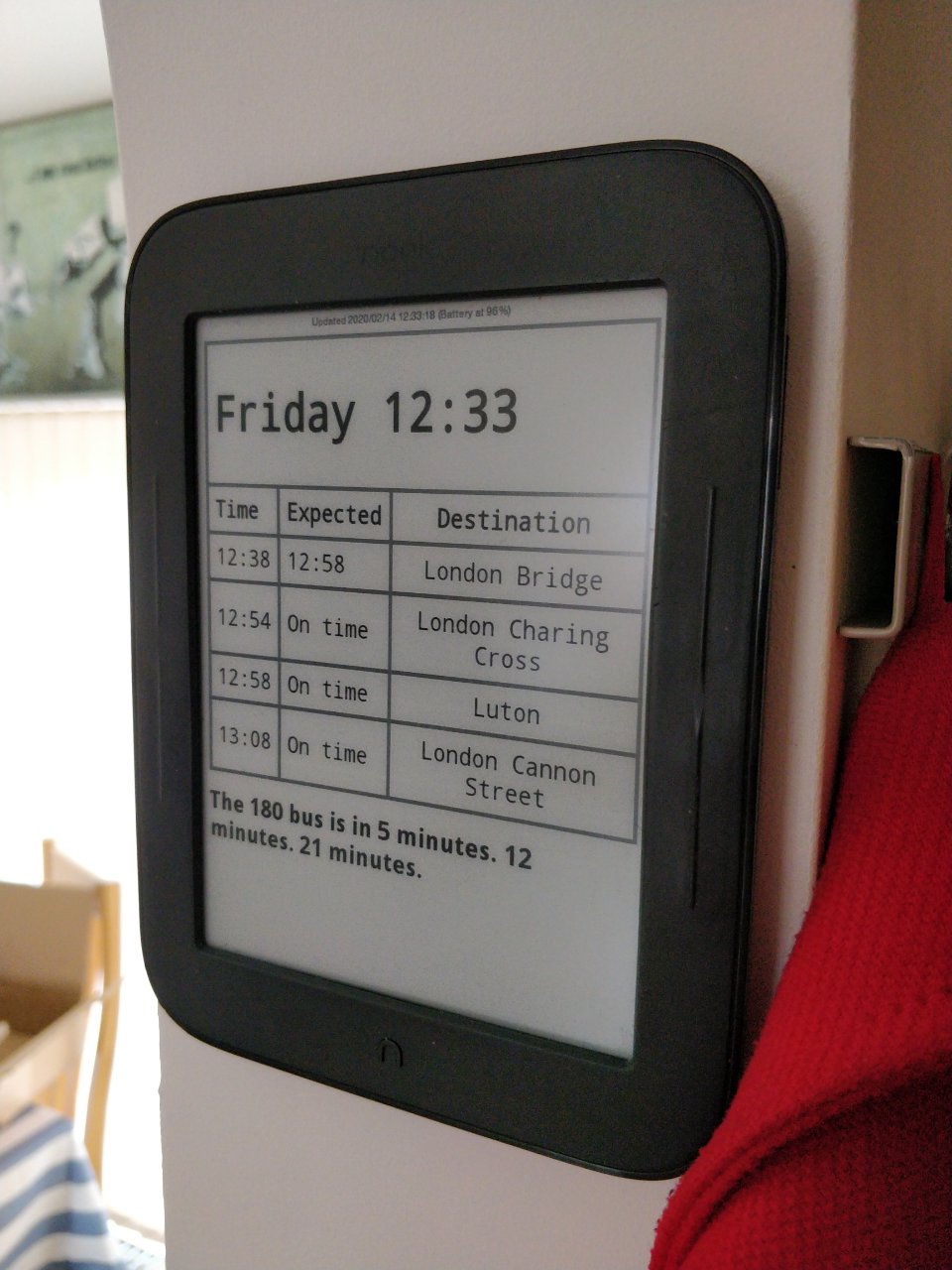 Well, a very interesting blog (it's worth having a look through the wide range of other posts on there , too) has contributed an example – Terence Eden's Blog and his modified Nook, which shows the trains he can catch from his local station.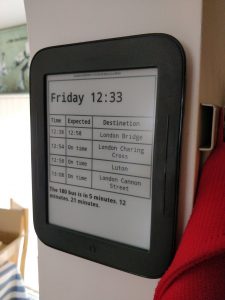 As well as showing the next four available trains, and whether they're delayed, the bold text at the bottom of the display reveals how long it is until the next local bus to the station. Oh yes, it also clearly shows the time. Excellent.
The Nook, you may remember, was Barnes and Nobel's answer to the Amazon Kindle – an e-book reader with an eInk screen display.
His project involved manually updating the Nook's firmware. Unfortunately, it only works with Android 2.1, he says, and doesn't run a modern browser so he turns to the Electric Sign Android app. And then he also has to register for an API key for the Live Departure Boards Web Service (LDBWS), for UK trains. And he also allows time for him to get to the station
"You can also see that I've only included trains we can actually catch. There's no point showing a train leaving in 5 minutes if it takes 10 minutes to walk to the station. The train API shows the departure time of delayed trains, so the code takes that into account."
The physical install is the easy bit!
You can check out GitHub for the project code. Read the full post »
Hands up, this is all a bit London centric, as Transport for London (TfL) shares its data online (and the times until the next bus are also displayed at some bus stops (the best ones).
Hyper-local
I came to this project via BlogMyWiki, which highlighted Terence's project as an inspiration for their own version.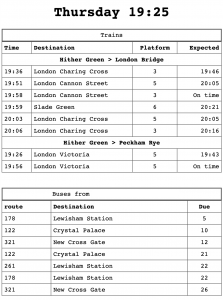 No real pics to show of this one, just the tabular info (right), but the code is up on GitHub, should you wish to investigate further.
While modestly describing the result – as "a hideous kludge that is half-PHP, half-JavaScript" – it seems he managed to consume TfL bus data successfully, which is where I fell down on my very first effort.
Again, the neat twist is that he only shows trains with platforms allocated that are at least 10 minutes away, to allow time to get to the train station, and buses more than two minutes away, as the bus stop is closer.
He vouches for the the index.php file working with PHP version 5.3, and flags the steps you may need to consider (such as getting your own National Rail data API key, getting the relevant three-letter station codes and making adjustments for how long it takes to walk to your stop…)
Read the full post »
If you've tried a similar real-time public transport reporting project, please let me know via the comments below. I'll be delighted to learn more and put it in the spotlight for the wider Gadget Master readership.
Image: (top) Terence Eden's Blog (bottom) BlogMyWiki